Warner Brothers gave us an opportunity toexpand our portfolio even further, but this time in the direction of motionpicture. The studio giant head-hunted us in 2014 for a piece of work in theirnew comedy, about a group of women living in a shared flat in Berlin called"Traumfrauen". The main actors were Hannah Herzsprung, Karoline Herfurth,Palina Rojinski, Iris Berben and Elyas M'Barek.
Given the feminine theme of the movie, wedecided to tape a giant hummingbird on the wall of the girl's apartment,inspired by the idea of the butterfly effect. We believe nature is very complexand we have to take care of her, just one flap of a hummingbird's wing can havea big impact. This idea is represented in the huge flutter like pattern whilethe hummingbird searches for its nectar in the abstract flower arrangementaround the door frame.
For the movie, the hummingbird represents theessence of the girls living in the apartment, in addition to the complex patternin the flowers. These are all feminine symbols, which were enhanced by the useof colorful tape. The hummingbird is made up of different types of blue crepetape and neon-pink duct tape, whereas for the abstract patterns, we used blackduct tape.
The combination of organic forms and geometricpatterns is a perfect example of nature and its effect.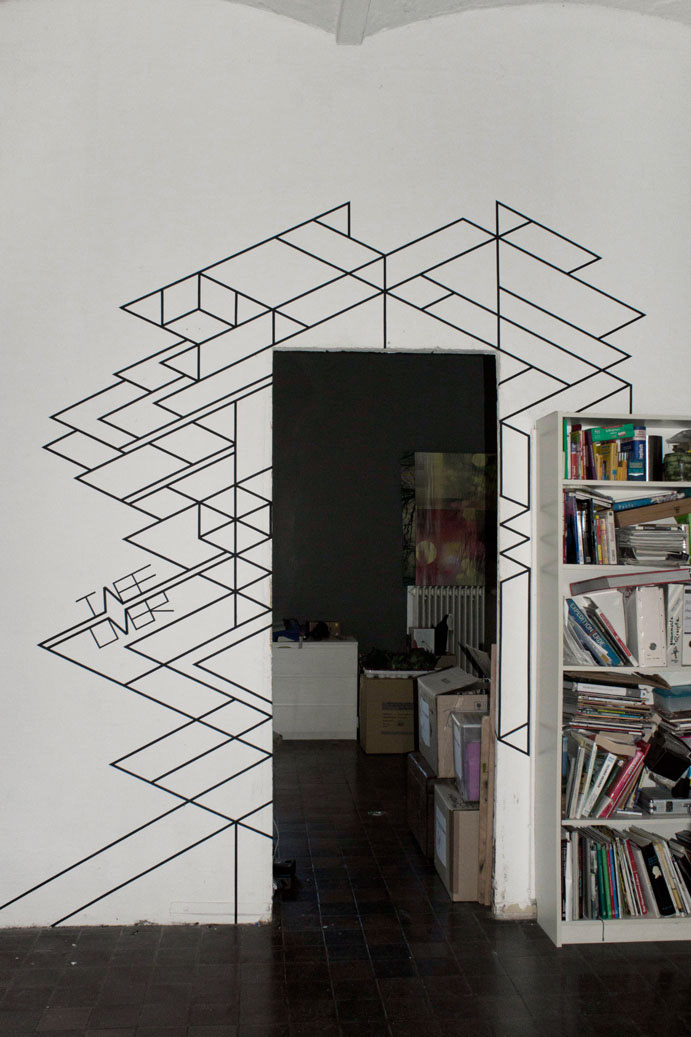 Für den Warner Brothers Kinofilm TRAUMFRAUEN haben wir dieses besondere Tape Art Kunstwerk geschaffen. Es trägt den Titel HUMMINGBIRD EFFECT und spiegelt eindeutig unsere Zusammenarbeit im Team wider. Denn die Kombination aus organischen Formen und geometrischen Mustern erzeugt für uns ein sehr interessantes visuelles Spannungsbild...was charakteristisch für unseren Tape Art Stil ist.

Bei dem Film handelt es sich um eine Komödie über eine Frauen WG in Berlin. Die HauptdarstellerInnen sind Hannah Herzsprung, Karoline Herfurth, Palina Rojinski, Iris Berben und Elyas M'Barek.

Die Inspiration zu diesem Klebeband-Kunstwerk basiert auf dem Butterfly Effect - sprich der Flügelschlag eines Kolibris kann sehr grosse und unvorhergesehne Auswirkungen haben. Damit möchten wir zum Ausdruck bringen, dass die Natur unheimlich komplex ist und wir daher sehr bedachtsam mit ihr umgehen müssen. Die Komplexität der Natur haben wir versucht durch das geometrische Flatter-Muster zu visualisieren. Zusätzlich haben wir eine geometrische Tapeart-Struktur um die Tür herum kreiert - was wiederum eine abstrakte Pflanze symbolisiert.

Diese doch sehr bedeutsame Aussage ist eine versteckte Botschaft - eine Art ernsthafter Subtext.

Für den Film und das Tape Art Szenenbild repräsentiert der Kolibri das Wesen der Frau. Dies gilt ebenso für das Flügelschlag-Muster und die abstrakt-geometrische Pflanze. All diese Bestandteile besitzen einen sehr femininen Charakter und eine weibliche Aussenwirkung.

Da es sich um eine Komödie handelt, die in Berlin spielt, haben wir uns für farbenfrohes Tape entschieden. Der Kolibri besteht aus verschiedenen blauen Krepp-Klebebändern sowie neon-pinkem Gewebeband. Die Muster und geometrischen Formen haben wir mit schwarzem Gaffa geklebt.