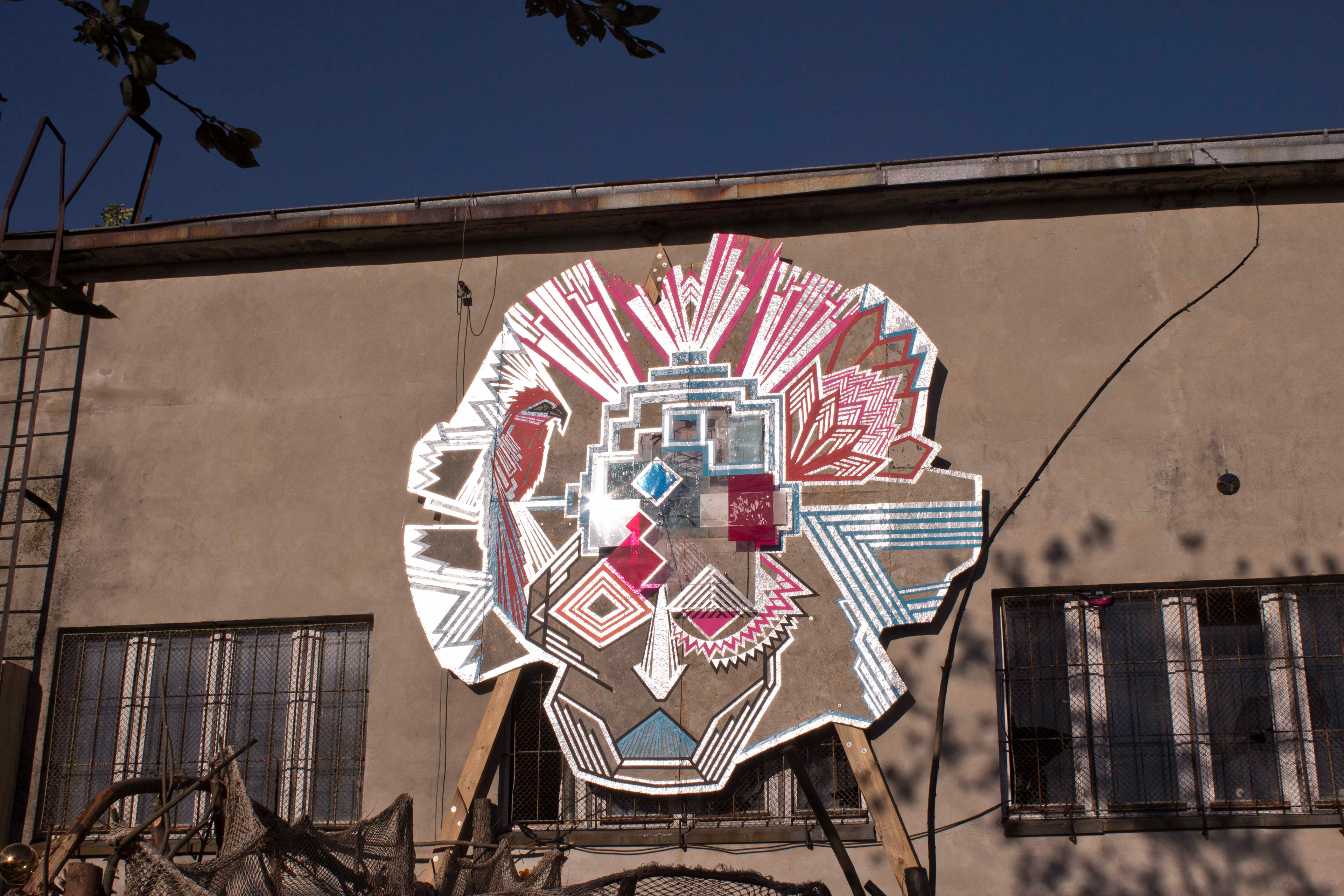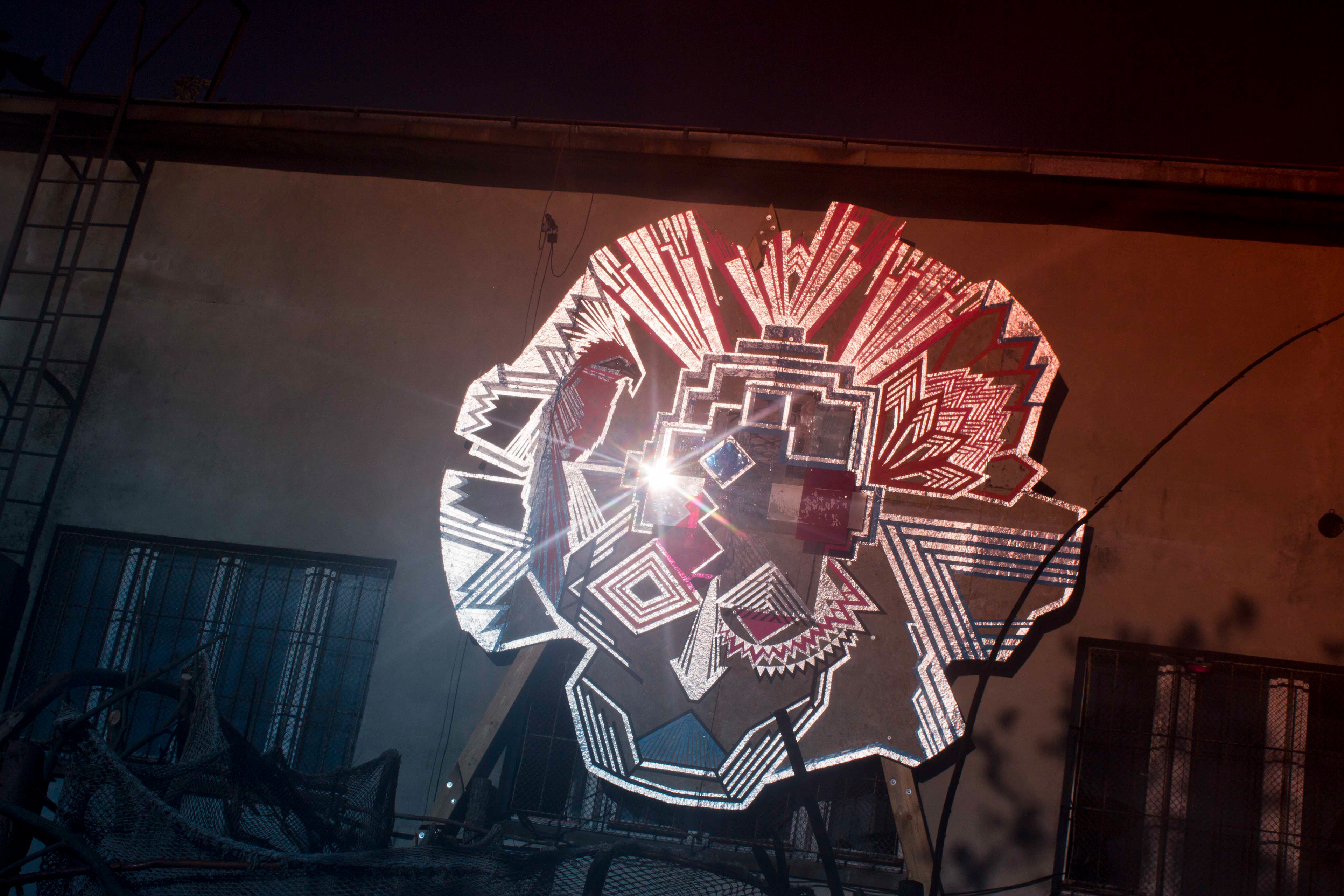 As we're pretty established in the Berlinsub-cultural music scene, we were invited to create some awesomeness at theannual festival "Plötzlich am Meer", held in Poland. Berlin's bestunderground DJ's and live acts collaborate there yearly, and we were privilegedenough to be a part of the hype, where we created a lucent tape artinstallation.
Our piece of tapeart was planned to be thehighlight of the so called "temple floor". Thus, we designed a uniquetape art installation called "Sun Disk". We focused on a hybrid ofantique aesthetic's, combined with a colorful look and feel. As the festivalwas held in the height of the summer, we had one more organic advantage to bearin mind and integrate within our work: the sun.
For the basic form, we took wooden boards andbuilt an irregular shaped disk, then used aluminum tape for the main parts ofthe tape art piece. This special metal tape is a perfect medium to reflect thenatural light of the sun and emitted some pretty spectacular rays. Finally weused brightly colored duct tape to implement ancient designs such as themystical patterns, flowers and parrot.
As our tape art installation was the mainfocus of the temple floor, it was placed at the very top for all to see,reflecting everything the sun graced us with.
We proudlyreturned to the festival in 2014, where we helped make even more magic happenwithin the festival grounds.
Weil wir unsere Wurzeln in der subkulturellen Berliner Elektroszene haben, wurden wir sowohl 2013 als auch 2014 zum "Plötzlich am Meer" Festival eingeladen, um dort eine leuchtende Tape Art Installation zu kreieren.
Dieses Underground Festival ist bekannt dafür über 3 Tage hinweg die besten Berliner DJs und Live-Acts zu präsentieren.

Da unsere Klebeband-Installation als Highlight auf dem sogenannten "Tempel-Floor" geplant war, haben wir eine Tape Art "Sonnenscheibe" entworfen. Hierbei haben wir uns auf ein antikes aber auch farbenfrohes Design konzentriert - wobei wir uns von der Maya Hochkultur haben inspirieren lassen. Zudem wollten wir unbedingt mit dem Sonnenlicht spielen und diesen Effekt in unser Klebeband-Kunstwerk integrieren.

Zuerst haben wir aus verschiedenen Holzplatten eine Art Scheibe konstruiert, die uns als Basis diente. Dann haben wir den Hauptteil des Tape Art Kunstwerks mit Aluminium-Tape gestaltet, da dieses Klebeband die Eigenschaft besitzt, Licht zu reflektieren. Zusätzlich haben wir mit sehr farbigem Tape gearbeitet, um ein starken Design mit einem intensiven Kontrast zu erzeugen. Hierbei haben wir Elemente wie antike Muster, Urwaldblumen und Vögel verwendet.

Auf diese Weise haben wir eine Tapeart-Sonnenscheibe erschaffen, die an die Hochzeit einer alten Kultur erinnert. Unsere Installation SUN DISK wurde am höchsten Punkt des Floors angebracht und war ein leuchtendes Symbol für diesen Bereich des Festivalgeländes.