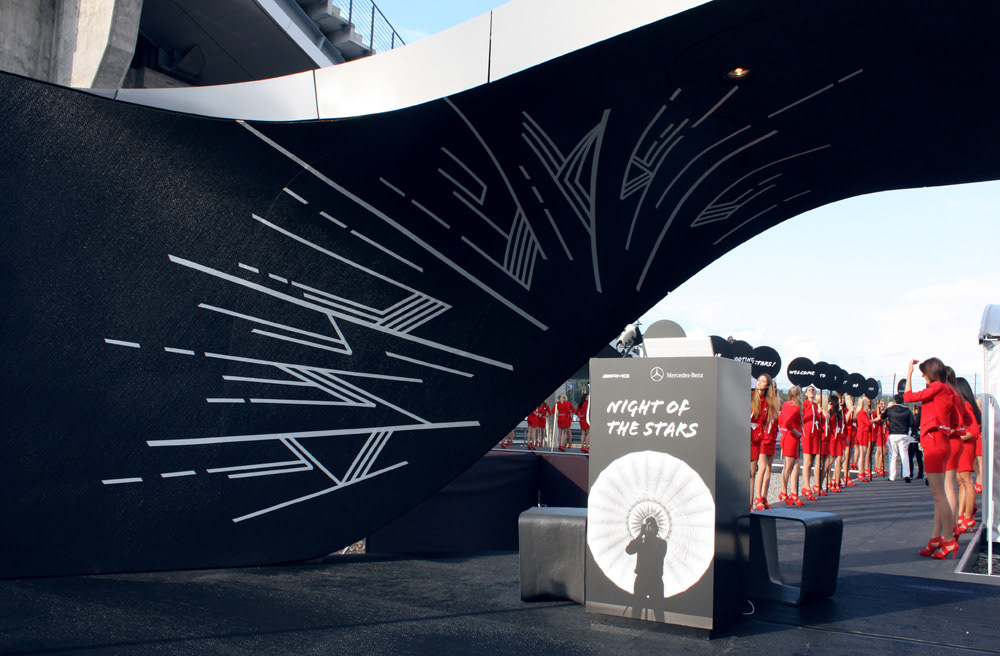 A-Class cars met class A taping at the Formula1 Grand Prix in Germany 2012, as we were back for a third round with ourfriends at Mercedes Benz. Here we performed live tape art to highlight the carmanufacturer's newest A-Class range.
We got to work and did our thing right infront of the Mercedes stand. To really accentuate the the car as well as the dark exhibition stand, we usedblue and white tape creating a combination of warped chequered flag and raceline patterns.
In addition, we also created a tape art designat the entrance of the after-show.
Bei dem Formel 1 Grand Prix 2012 in Hockenheim haben wir mit unserer Tape Art sowohl die neue A-Klasse als auch den Pavillon von Mercedes Benz in Szene gesetzt.

Wir waren als live Künstler engagiert und haben direkt vor der Mercedes Tribüne mit blauem und weißem Klebeband unsere Tape Art präsentiert. Passend zum Thema haben wir dynamische Muster und Designs geklebt, um die Stimmung des Rennens wiederzugeben.

Zusätzlich haben wir ein schlichtes aber auffälliges Tape Art Design am Eingang / Beginn des roten Teppichs der After-Show-Party kreiert.